Sugar

Menu

Events

Gallery

Links

Contact
Sugar cafe - lounge is perfectly located at the beachroad of Kokkinos Pyrgos/Timbaki, in the wonderful south of Crete. Enjoy the beachlife on our free sunbeds or have an icecold drink on our terrasse while watching the libyan sea.
Escape from the stress and heat, come inside and take place on... Come and enjoy!
Have fun with sugar - let´s talk and stay tuned :)
please klick on the images to enlarge our menu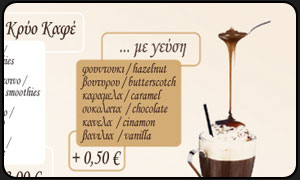 coffee specialities
hot chocolate
hot tea
sweets & icecream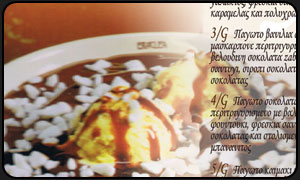 ice cream chocolate
ice tea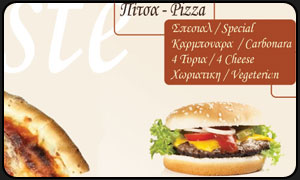 snacks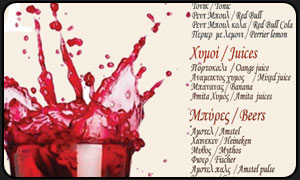 drinks
13. - 14. 02. 2010
TWO DAYS CARNIVAL PARTY!!
SAS KALOUME NA DIASKEDASETE MAZI MAS STO 'DIHMERO APOKRIATIKO PARTY' STO SUGAR LOUNGE CAFE BAR TO SABBATO 13 KAI THN KYRIAKH 14 FEBROUARIOU 2010!!
04. 02. 2010
MASKE - PARTY
Την Πεμτπτη(τσικνοπεμπτη) 4 Φεβρουαριου 2010 σας καλουμε να μασκαρευτουμε ολοι μαζι και να διασκεδασουμε σε ενα ξεφρενο μασκε παρτυ στο 'sugar lounge cafe bar' με παρα παρα πολυ latin μουσικη και οχι μονο!!!
31. 12. 2009 - 02. 01. 2010
SANTA CLAUS SUGAR PARTY
31 Dekembriou 2009 meta tin allagi tou neou etous kai tin 01 Ianouariou 2010 sas perimenoume sto SUGAR LOUNGE CAFE BAR stin PARALIA KATALYKIS KOKKINOU PYRGOU na giortasoume oloi mazi ton erxomo tou neou etous!! Sta Deck's 8a einai o MANWLIS LEKAKIS radiofwnikos paragwgos tou melody fm!! KALI XRONIA KAI PANTA ME YGEIA, ...
24. - 26.12. 2009
THREE NIGHTS CHRISTMAS PARTY!!!!
To 'sugar lounge cafe bar' stin paralia Katalukis Kokkinou Pyrgou sas perimenei na perasete 3 bradies uperoxes bradies gemates xoro, diaskedasi kai polla happening!!! Tin Pempti 24/12 - tin Paraskeui 25/12 kai to Sabbato 26/12 sta decks tou Sugar 8a einai o MANWLIS LEKAKIS me para polles mousikes ekplikseis!! XRONIA PO...
05. 12. 2009
RADIO DJ'S PARTY VOLII VOL.II
sas perimenoume to Sabbato 05 Dekemriou sto sugar lounge cafe bar stin parilia katalykis kokkinou pyrgou gia mia aksexasti bradia me pra polu kai kali mousiki bgalmeni kai apo oti kainourio uparxei stin elliniki alla kai tin kseni agora mousikis alla kai me para polu mousiki bgalmeni apo to parel8on!!! Gia ola auata 8a frontisoun apo ta deck's tou sugar oi radiofwnikoi paragwgoi tou melody fm MANWLI LEKAKI kai KYRIAKO PAPAGEWRGIOY!!! sas perimenoume gia mia aksexasti bradia!!
14. 11. 2009
RADIO DJ'S PARTY VOLII VOL.I
01. 05. 2009
first-of-may-party in sugar
from the afternoon until night we have dj ZAK with house and house electro music at our bar!
come and join us :)
Various pictures 2010!!!!
THREE NIGHTS CHRISTMAS PARTY!!!!
14.11.2009 | RADIO DJ'S PARTY VOLII VOL.I
Sugar Cafe-Lounge
Kokkinos Pyrgos - Beach
70200 Tymbaki, South Crete
Tel: 289 20 3332
email: m.kourtakis@windowslive.com